Sitting north of the Tropic of Capricorn and surrounded by the Indian Ocean, the Ningaloo Reef is one of the best and most pristine untouched World Heritage sites in Western Australia. It enjoys a tropical climate all year round, with blue skies and water as clear as a glass of gin.  
Thunderstorms and spectacular displays of lightning can be seen from October for a few months on and off. They can be seen across the gulf in the distance and make a spectacular backdrop sitting while sitting at the beach. The remaining months are dry with morning moisture. 
If you love the heat, the summer months temperatures shoot up to the mid to high forties or, if you prefer days that are a little bit cooler, you can also expect temperatures in the mid-twenties on either side of the summer season. The water is like swimming in a bath during the summer months and is beautifully cool in the winter, making Ningaloo the perfect dive destination all year round.
During the many Ningaloo Reef seasons, visitors to the North West Cape can experience an unspoiled underwater paradise. The Ningaloo Reef is home to hundreds of magnificent species of corals and tropical fish. And, from March to August every year, the world's biggest fish – the iconic whale shark – congregates in its water, joined by more turtles, manta rays, humpback whales, dolphins, and dugongs than anywhere else on Earth.
Experience the unspoiled underwater paradise of Ningaloo Reef with one of our exciting whale shark adventure tours, and check out our overview of the Ningaloo Reef seasons so you know what you can expect year-round.
December to February
December through to February is an exciting time at Ningaloo Reef. Reef sharks start schooling and you can see Manta Rays and other species of fish happily gliding their way through the underwater wonderland. Turtles start to lay their eggs along the coastline and you can watch the hundreds of baby turtles hatching on one of the many beaches. 
One of the most spectacular times to be at Ningaloo Reef is turtle season, which lasts the whole summer, from November through to March. Three of the world's magnificent marine turtle species - the Green Turtle, Hawksbill Turtle and Loggerhead Turtle - nest on the shores of the Coral Coast, and the islands surrounding the Ningaloo Reef.
Turtles have attracted millions of visitors to Ningaloo and the North West Cape, but with numbers increasing every year, the local government has introduced mandatory licencing to protect the turtles and their babies
March to May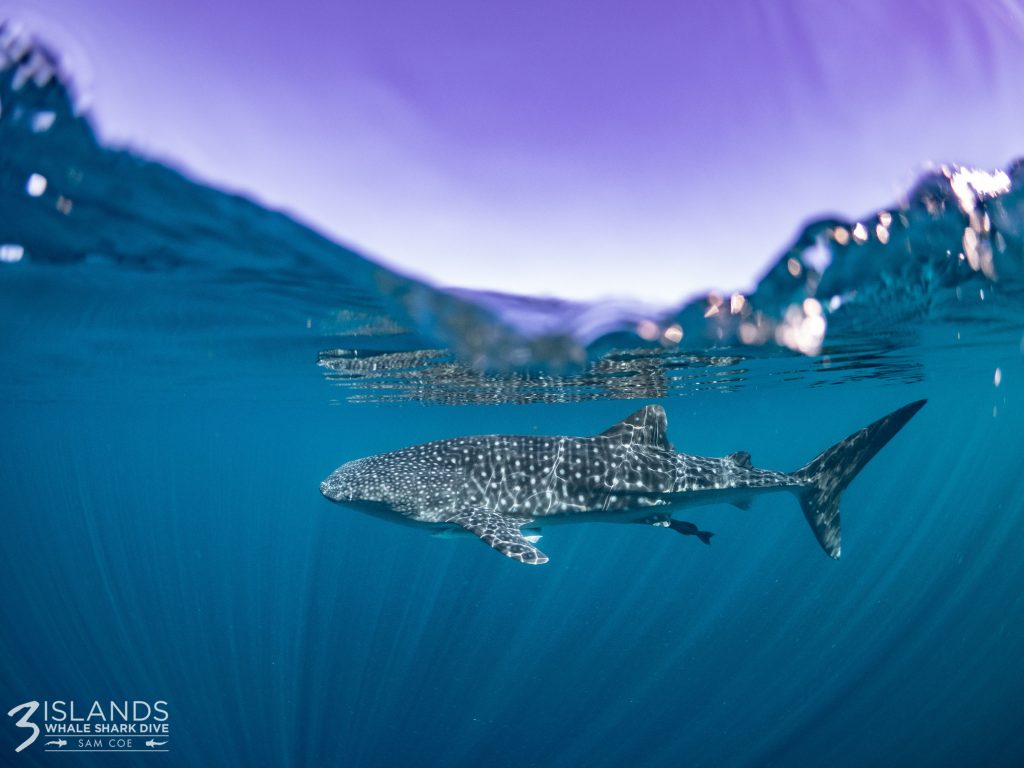 In March and April, coral spawning occurs after the full moon. As a result, thousands of whale sharks travel to the Ningaloo from all over the world in time for this coral spawning. They arrive in the pristine waters of Ningaloo Reef in search of zooplankton, the vital food source for all whales. During March you can see turtles hatching as they enter into the world for the first time, and watch the baby turtles run and launch themselves into the water. 
You can also experience inquisitive manta rays as they glide effortlessly underwater with their incredible wingspan, and if you are lucky, you may even spot a humpback whale.
Ningaloo Reef is a world heritage listed site with some of the best snorkelling in the world. Three Islands Whale Shark Dive will ensure you experience one of the world's most pristine reef snorkel destinations. From late March to early August is the best time to go on our whale shark adventure tour, where you get the chance to swim through a marine wonderland with the gentle giants.
June to August
June to August welcomes winter along the Exmouth coastline, however, the temperatures range from low to high twenties, with the ocean temperature a beautiful twenty-two degrees. During this time, you'll get to see one of the largest populations of migrating Humpback Whales, who head north every year for the breeding season.  
From July to October, schools of baits will take your breath away, as you watch them swim and frolic along the coastline, which will have you captivated for hours and hours. 
Ningaloo humpback whales season starts in early August to mid-October. You can experience the interaction of a lifetime and swim with them whilst listening to them sing. Make sure you book one of our Humpback Whale Swim Experiences and swim with these magnificent mammals.
September to November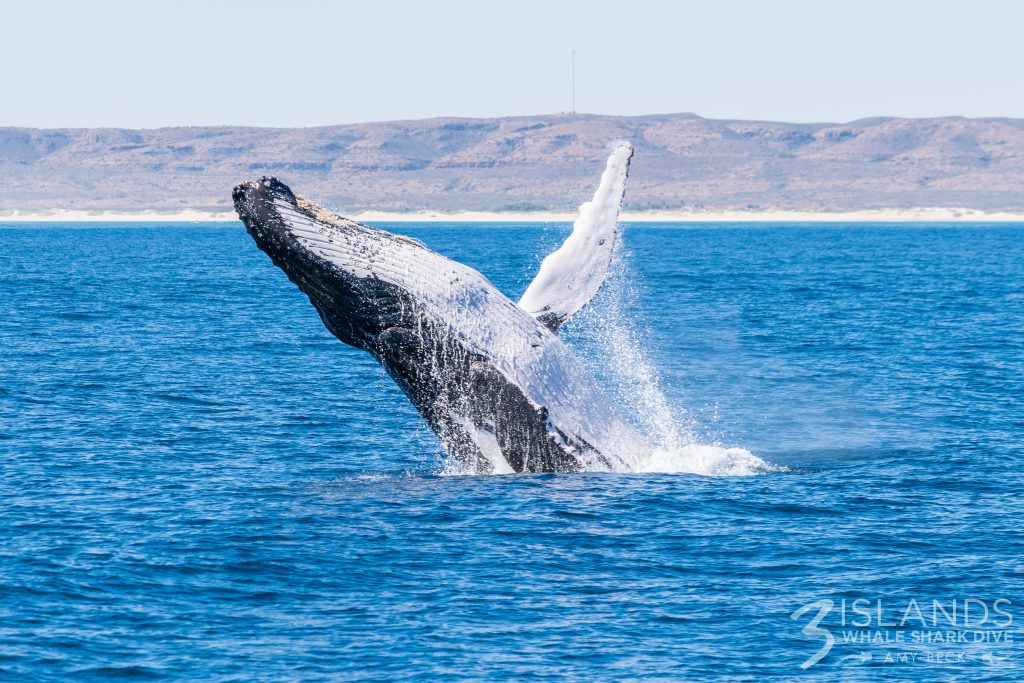 Spring is a magical time at Ningaloo Reef when the underwater paradise comes alive with thousands of exotic fish, marine life and an oasis of colourful corals. As the humpback whales start to head south, reef sharks start schooling and turtles commence their mating season. 
Even though the whale shark season has just come to an end, there's still plenty to see. The humpbacks are still around, and you've got a whole list of marine life to check out (over 450 different species, to be exact). 
Frequently Asked Questions
What is the best time to visit Ningaloo Reef? 
Ningaloo Reef is a special place to visit all year round, with the water temperatures consistently warm. Mid-March to August are the best months to see the whale sharks, but you'll also have a fantastic time in the off-peak months, too. Turtles nest and hatch from November through to March, and dolphins, dugongs, and manta rays can be seen year-round. 
What time of year is best to swim with whale sharks? 
To make the most of your experience swimming with the whale sharks we recommend March to August. This is when they aggregate to the Ningaloo Reef and each year they hang out around Exmouth. We are in the perfect location to facilitate your swim with the whale sharks and ensure your experience is safe and memorable.
Is it safe to swim at Ningaloo Reef? 
Absolutely! The Three Islands team will ensure you are safe at all times when swimming at Ningaloo Reef. We have our own tenders and experienced staff members out on the water at all times. For the entire duration of your whale shark swim experience, at least one of our tenders will follow the group to ensure your safety.
Three Islands Whale Shark Dive Tours is based in Exmouth and offers award-winning discovery and adventure tours during the season. Our mission is to ensure you have an out-of-this-world experience. You can check out our range of Ningaloo Whale Sharks Tours here.
More...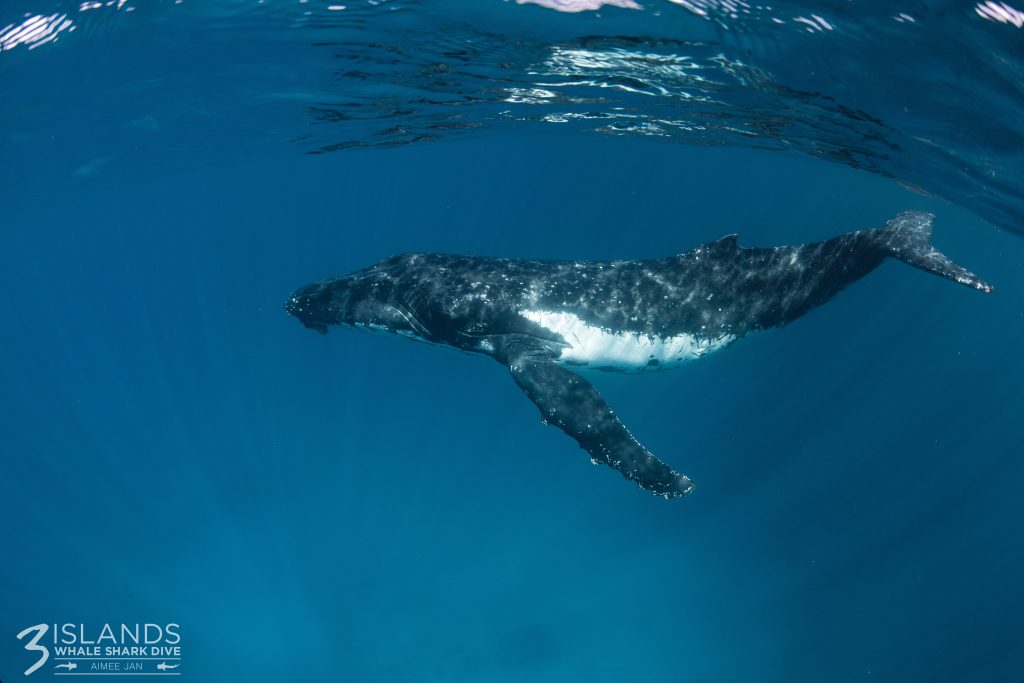 Table of Contents Humpback Whales: Quick Overview The Phenomenon of Humpback Whale Migration The Exmouth Connection to Humpback Whale Migration Swim with the Humpback Whales in Exmouth The captivating journey of the humpback whale holds a mesmerising tale of resilience and survival, a cycle as old as the sea itself. Their annual migration, a feat…
Read More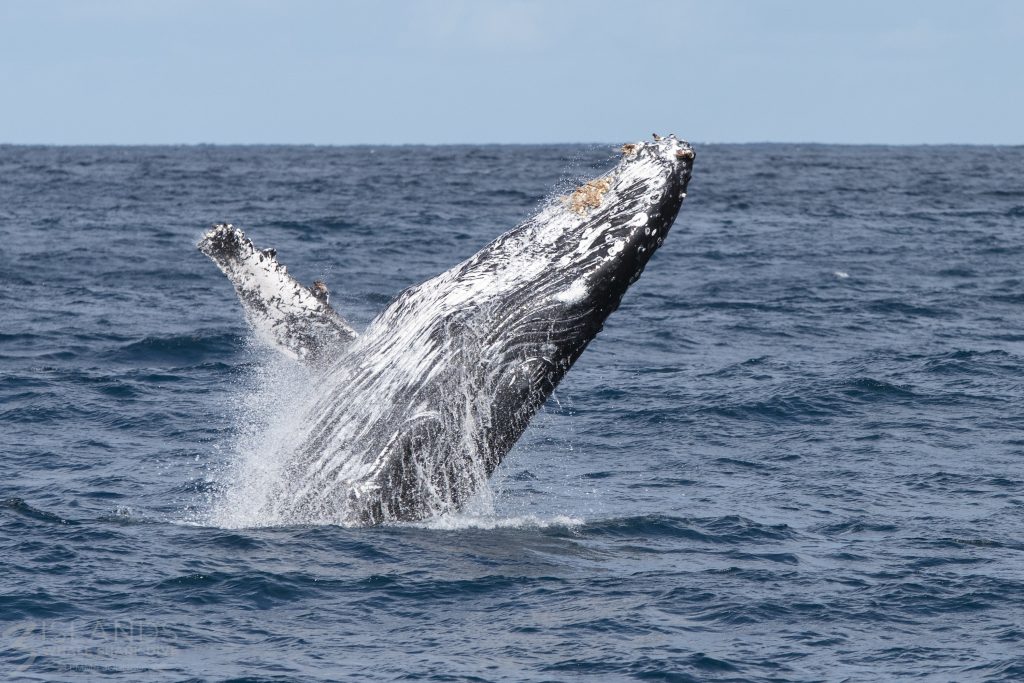 One of the greatest spectacles in the natural world is the annual migration of humpback whales to Australia. Have you ever wondered, "When do humpback whales migrate to Australia", in the hopes of experiencing these magnificent creatures face-to-face? Well, you're in the right place. Table of Contents The timing of the humpback migration The humpback…
Read More