About Three Islands Whale Shark Dive
About Us
Exhilarating. Award-winning. Trusted. Local. Welcome to Three Islands Whale Shark Dive. A spectacular adventure awaits you on the pristine turquoise waters of the Ningaloo Reef.
Book now
a marine eco-adventure tour company
Who we are
Located in beautiful Exmouth on Western Australia's Coral Coast, Three Islands Whale Shark Dive is a marine eco-adventure company specialising in whale shark tours through the aquatic wonderland that is the Ningaloo Reef.
A once in a lifetime adventure awaits you aboard our comfortable, modern and safe vessels. Witness awe-inspiring wildlife below and above the surface, from the iconic whale shark to the majestic manta rays gliding and dancing beneath you. Or perhaps you'd like to enjoy the magnificent humpback whales swimming and singing as they make their journey through the Ningaloo. There is an abundance of marine life to see on our day snorkel tours – all you need to do is climb aboard.
Whether you are travelling solo, as a couple, or in a group, Three Islands Whale Shark Dive will take you on a journey of a lifetime onboard our customised fleet of vessels, perfectly appointed to ensure your day on the water is comfortable and safe. Our crew are passionate about the Ningaloo Reef, your safety and giving you an experience you won't forget.
So how does it work? Your tour includes everything – courtesy bus transfers, delicious gourmet meals, local beverages,  complimentary photos of the day via a download link, high-quality snorkel gear and wetsuits, an exclusive spotter plane and, most importantly, a safety support vessel in the water at all times. Your safety is our priority so we feel it is essential to have a safety support tender on standby at all times when guests are in the water.
Non-swimming observers are also welcome aboard one of our comfortable 17-metre vessels with their large shaded deck areas and cushioned seating. Observers are welcome to participate in the reef snorkels at no extra cost and upgrades to the whale shark swim can be made onboard.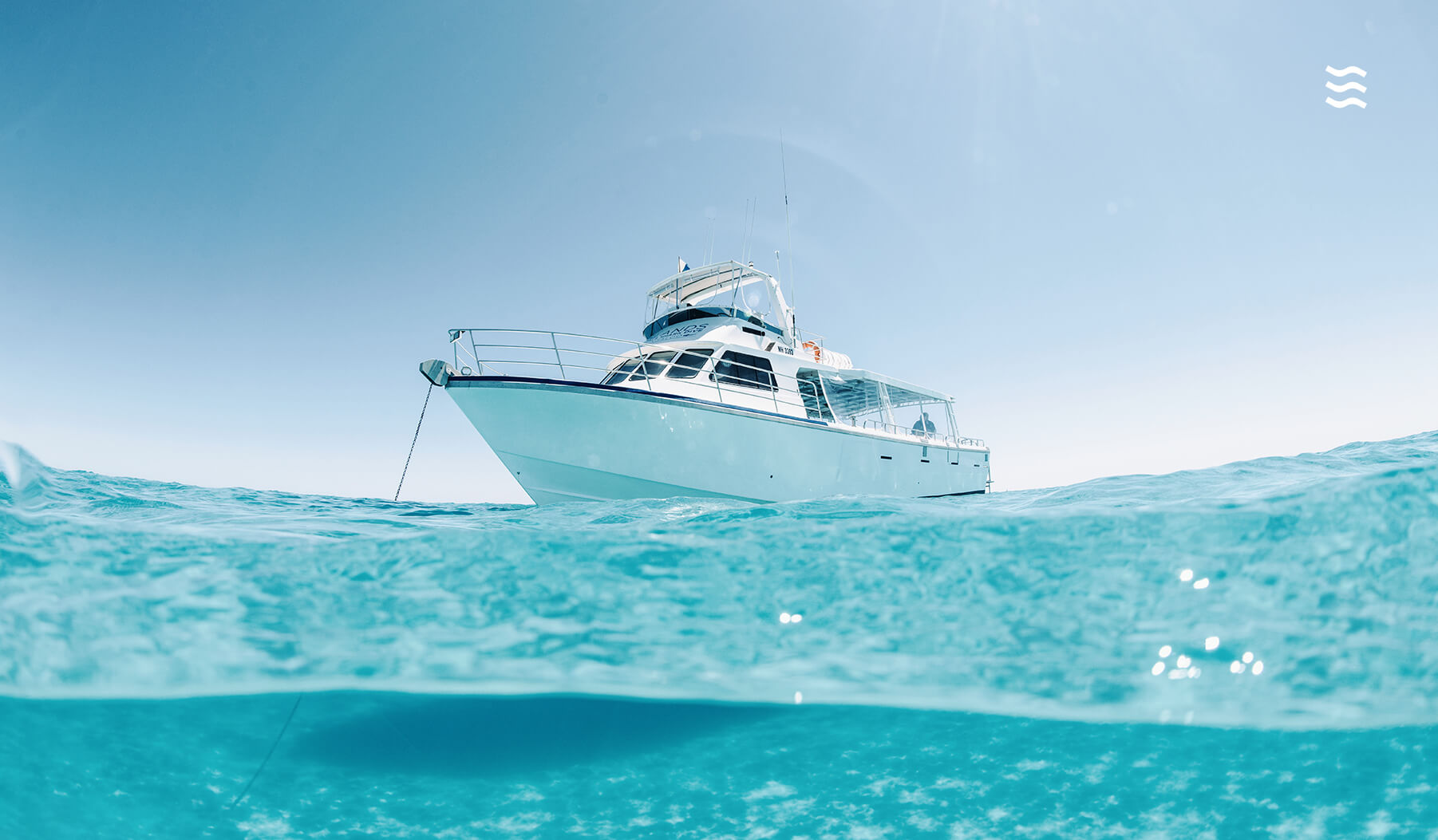 Our History
Established in 1997, Three Islands Whale Shark Dive is one of the original whale shark tours and has been exploring the stunning Ningaloo Reef with our guests for over twenty years.
We started touring because we're passionate – about Ningaloo's incredible marine life, about the Exmouth region's local history, and about the beautiful coastline with its abundance of colours and dramatic contrasts.
Above all, though, we are passionate about excellent customer service and delivering a once-in-a-lifetime experience our guests will never forget.
Our Plane
Our friends at Ningaloo Aviation are our eyes in the sky, spotting whales sharks and whales for our guests to snorkel with. Having our own spotter plane means we can get away from the crowds and tailor our day to suit our guests – which means more time in the water!

Safety Tender
Safety is our number one priority. Our trusty Naiad boats are always close by to help out at any moment, and our main vessels comply with national survey standards – so you can enjoy swimming and snorkelling knowing you're in good hands.

Best No-Sighting Policy
We do everything we can to ensure you get to frolic with these gentle giants in the beautiful clear waters of the Ningaloo. But, on the rare occasion our whale shark friends aren't around, we give the option of a free repeat tour, a partial refund, or a transferable voucher valid for 2 years.
Locally Operated
We're a locally operated business, and our passionate crew are highly qualified and knowledgeable. We have so many stories to share and give unparalleled attentive and personalised service.
Eco-Friendly
We are eco-certified by Ecotourism Australia. This ECO Certification program assures travellers that certified products are backed by a strong, well-managed commitment to sustainable practices and provide a high-quality nature-based tourism experience.

Award-Winning
Three Islands Whale Shark Dive is a multi-award winning tour – an achievement we are incredibly proud of. We have been finalists in the Western Australian Tourism Awards for 12 years, and medal winners on ten occasions.
We've started a Plant-a-tree Program
As part of our ongoing commitment to the environment, in partnership with Carbon Neutral, Three Islands Whale Shark Dive now contributes native trees to an ongoing planting program for every tour we conduct. To date, we've planted over 5000 trees.
Along with a number of other sustainable practices used in our daily operations, this is just another step towards best practice as Australia's number one whale shark tour company.
Read more about the Climate Change in Exmouth.