Award-winning Whale Shark Tours Exmouth
Experience
Whale Shark Tours in Exmouth
Book now
Scroll down
Award Winning Whale Shark Experience
Tours
Unforgettable Whale Shark Swim Experience
An exhilarating, once-in-a-lifetime adventure awaits you on the spectacular crystal clear waters of the Ningaloo Reef. Explore this magnificent aquatic wonderland and experience a wildlife encounter like no other with our breathtaking whale shark tours in Exmouth.
Welcome to
Three Islands Whale Shark Dive
An adventure to remember for a lifetime
Located at Exmouth on Western Australia's Coral Coast, Three Islands Whale Shark Dive is a marine eco-adventure tour company that specialises in whale shark and humpback whale snorkel adventure tours on the beautiful Ningaloo Reef. We're passionate about providing an extraordinary experience that is as awe-inspiring as it is safe.
Our comfortable, state-of-the-art fleet is locally run, with crew ready to share their stories and give attentive, personalised service. We are also the only tour operator with a dedicated, professionally licensed spotter plane to ensure you get as much time in the water with the wildlife as possible. After all, that's what you came for!
You're in good hands with our award winning tour
Meet Nigel and Neville the Naiads. These two boys are there for one reason and one reason only: your safety!
Our safety procedures and commitment to our passengers is second to none, and the added bonus of having these boats out there cannot be understated. Our vessels comply with national survey standards for commercial vessels so you can rest assured that all of the necessary safety equipment is on board and functional.
During our morning snorkels and the entire duration of the whale shark swim, one of these two boats will follow the group in the water. Enjoy your swim knowing someone is watching over you in the water, never far away.
Equipped to ensure that your experience is as comfortable as possible
Say hello to our boats, Draw Card and Seafari. Both of our vessels were built in Western Australia, and their hull designs are well suited to the conditions found up and down the coast. Good design and functional fit-outs on both make it easier than ever to take in the breathtaking surrounds of the Ningaloo Reef when on the lookout for those big spotty fish.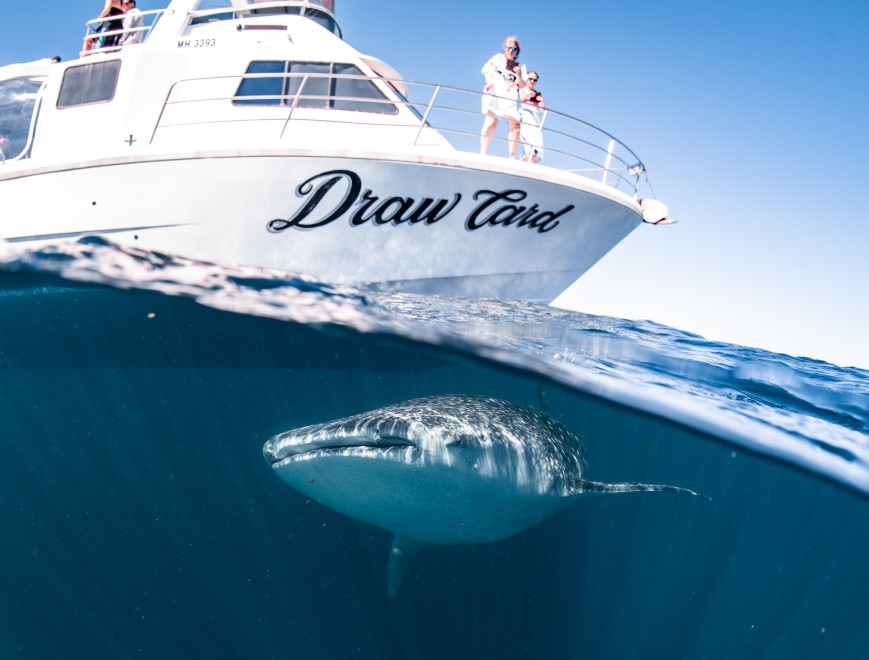 Finding whale sharks for you to swim with
Our friends over at Ningaloo Aviation use their expertise and eagle eyes to find whale sharks swimming their way through the crystal clear waters. Having our own plane means, most of the time, we can work away from the crowds and tailor our day to suit our guests.
By working with Ningaloo Aviation, we also have access to more resources on tougher days – like when the whale sharks are a bit tricky to find. This partnership really does give us the best opportunity to find our big spotty fish friends and give our passengers the best experience possible.
The team at Ningaloo Aviation are the most experienced group of fixed-wing pilots on the Ningaloo Reef. Owner Tiffany is a local in the air here and all have flown multiple seasons on the reef servicing the local tourism industry.
Where Desert Meets Sea
Located 1270 kilometres north of Perth, Exmouth is home to Ningaloo Marine Park and Cape Range National Park. Few places are blessed with the stark contrast of rugged ranges and crystal blue waters right on their doorstep, making this a very unique part of the world. Renowned for its white sandy beaches and amazing seasonal marine life, you can enjoy warm weather year-round.
Drive, fly, or take a coach – you have a bunch of options when making the trip to Exmouth. The 260-kilometre expanse of Ningaloo Reef runs down the western coast of the Exmouth peninsula, and is easily accessible from the shore.