Are you looking for the ultimate snorkelling adventure?
Here at Three Islands Whale Shark Dive, we're passionate about all things snorkelling, diving and generally enjoying this beautiful stretch of coast. We've snorkelled, dived, fished and picnicked at virtually every beach, cove, nook and cranny on this perfect coastline and today we're sharing our favourite spots for snorkelling!
Exmouth is home to some of the most incredibly abundant and beautiful snorkelling spots in the world. Ningaloo reef's vast turquoise waters are home to 300 coral reef species and 500 species of fish, meaning that you can swim with some of the world's best marine life. In this guide, we'll take you on a tour of the best snorkelling spots in Exmouth, so you can experience the vibrant underwater world for yourself. Let's dive into a few of our favourites within the north west cape of Western Australia!
Turquoise bay
Turquoise Bay's water is just as the name suggests, with an abundance of colourful fish, turtles, coral bays and spectacular views everywhere you look. If you're looking for calm waters for an easy snorkel, the main area of the bay is the safest as it is quite tranquil. 'The drift' snorkelling area will provide a stronger current to carry you towards a larger playground of coral and schools of fish.
Osprey Bay
Snorkelling in Cape Range National Park's Osprey Bay is a dream destination for snorkelling enthusiasts. As Osprey Bay is surrounded by coral reefs, be sure to swim about 100 metres off the shore to enjoy the incredible schools of fish that swim below. Look out for turtles that can often be spotted in groups around the area. Visit between March and August for beautiful, calm water and dry weather.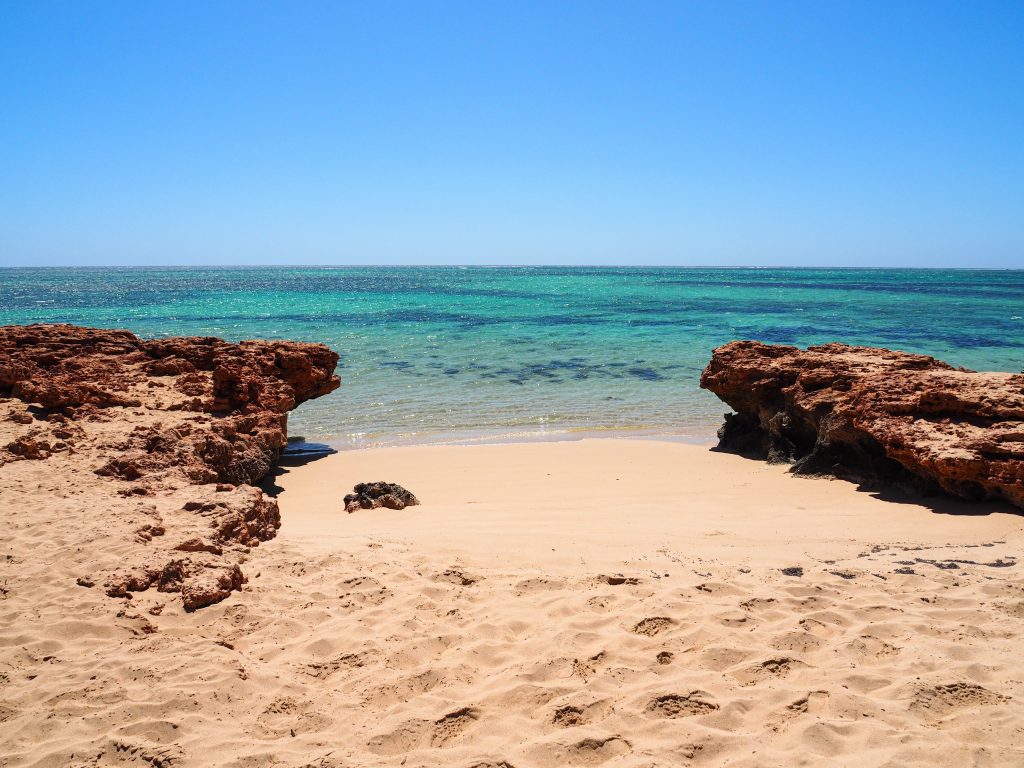 Muiron Islands
If you're looking for turtles, manta rays, dolphins and humpback whales (during migration season) and a kaleidoscope of fish, look no further than Muiron Islands.
South Muiron and North Muiron islands are located 16km (45 mins by charter boat) off the coast of Exmouth, and are best accessed via private charter or a full-day dive safari. If you're making the trip, pack your underwater camera as there are a number of dive sites that will blow your mind. Explore the swim-throughs and rocky edges of 'The Spit'. Along this 18-metre plunge into the deep, you may encounter manta rays, sleeping turtles, and even Grey Nurse sharks. To top it off, the 'Whalebone', located off the southern island, contains schools of glass fish—a rare, transparent fish that can be found swimming through the overhangs.
Oyster Stacks
If you're wondering where Oyster Stacks got its name, you can probably guess it. Oyster Stacks contain dense clusters of oysters which can be found on the rocks in that area.
Located in Cape Range National Park, it is best visited at high tide due to their abundance of coral reefs. It's important not to snorkel during low tide as it can damage the fragile reef and the surrounding ecosystem. Check the tide times and plan accordingly to make the most of your snorkelling time. The long stretch of coral reef brings extraordinary life to the area with crystal clear waters making it the ideal place to spend the day snorkelling.
Lakeside
Also located in Cape Range National Park is the hidden treat that is Lakeside Beach. If you're looking to set yourself up for a day on the beach, snorkelling, fishing, scuba diving, and picnicking, then this is the perfect spot. The calm, clear waters make it easy to see colourful fish, sea turtles and anemones, plus the large coral bommies at the bottom of the ocean attract larger marine creatures. Be sure to check the tide and current level before visiting so you can have a safe, enjoyable day.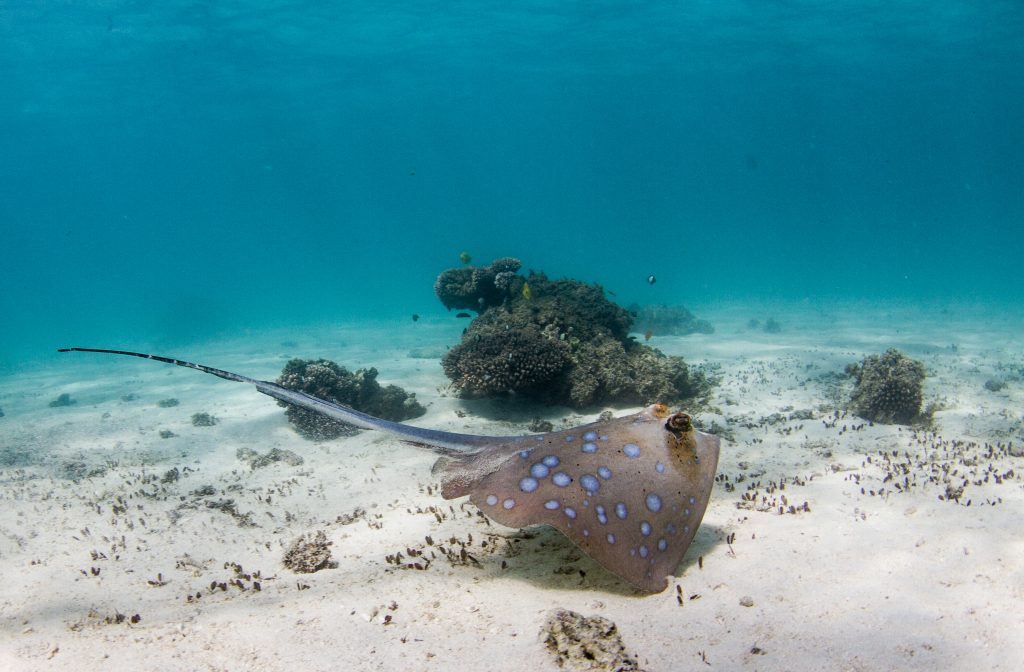 Bills Bay
Bill's Bay boasts protected waters and pristine beaches perfect for snorkelling, beach walks, bird watching and canoeing. Located in the small town of Coral Bay, Bill's Bay is in close proximity to the Ningaloo Reef, and being just 1.5 hours south of Exmouth makes it incredible for a day trip or even a pit stop on your way to/from Exmouth. Planning on visiting between June and October? Take a boat tour with Three Islands to see the migrating humpback whales here.
Mildura Wreck
The shipwreck of the SS Mildura, located off of the most northern point of Exmouth, is both a historical maritime site and an adventure seeker's dream. Only 80m offshore, the wreckage remains are clearly visible from the shore at low tide. Strong caution is advised for snorkelers, due to the shallowness of the wreck, the strong current and the waves in the area. This one is best left to experienced snorkelers and daredevils.
Disability Accessibility to Exmouth Beaches
Whether you are in the Exmouth or Cape Range region, both locations offer remarkable accessibility features for differently-abled people eager to experience the beauty of its beaches. The Beach Wheelchair Project, a commendable initiative by the Exmouth Town Council, is designed to offer increased beach access to people with disabilities. These specially adapted, all-terrain wheelchairs make the joy of beach visits and even venturing into the sea for that refreshing ocean feel a reality for all.
Best of all, these accessibility wheelchairs for Exmouth's prime snorkelling beaches can be hired absolutely free of charge! The wheelchairs are available to borrow throughout the year and can be found at the Exmouth Beach Wheelchair Hire premises located on Queen's Drive. The storage facilities are eco-friendly and utilise a rainwater collection system to help clean the wheelchairs after use.
When is the Best Time to Visit Exmouth Beaches?
Thanks to Exmouth's sub-tropical climate, it enables the region to be a year-round destination. However, if your goal is to experience the best snorkelling or whale shark watching, there are specific periods that might appeal to you more.
March to August
The whale shark season in Exmouth offers a unique opportunity to witness these magnificent creatures in their natural habitat. The warm, clear waters during these months offer excellent visibility for snorkelling and diving. If you do happen to be visiting the region in September, it is advisable to consult with your tour provider in advance. The presence of whale sharks during September is subject to climatic conditions, and while sightings can occur, they are not guaranteed.
November to February
These are the summer months with higher temperatures and the occasional tropical storms. The water might be a bit cloudy for snorkelling because there is more plankton, but it's the best time to see coral spawning. This is a special event that snorkelers and divers love to see due to the spectacular sight of colourful coral colonies!
Take Guided Swimming and Snorkelling Tours
If you would rather go a step further than exploring on your own, and see some of the best and most interesting wildlife Exmouth has to offer, look no further than Three Islands Whale Shark Dive tours for guided swimming and snorkelling adventures. The extensive knowledge that our diving instructors will provide can make for a life-changing experience. Whether you've always wanted to swim with the biggest fish in the ocean—the whale shark—or have always dreamt of snorkelling/spotting humpback whales, there's an adventure for everyone.
Preparations Before Snorkelling
Gear Up Right
Before you head to the beautiful beaches of Exmouth for snorkelling, make sure you have the right gear. You'll want a good quality snorkel and mask, and some people like to use fins too. A good quality mask that fits well can make the whole experience better, because it won't let in water or fog up. If you're new to snorkelling or don't own gear, the Ningaloo Visitor Centre located on Murat Road in Exmouth offers quality rental gear at a good price.
If you have booked a tour with us then good news! We provide all of our customers with snorkelling gear with every tour to ensure that you will have the best experience!
Protect Your Skin
Exmouth has lots of sunshine, and the water can make the sun feel even stronger. With the Ningaloo Reef being world heritage listed, it is crucial that you wear water-resistant, reef-safe sunscreen. These sunscreens are normally advertised as 'physical' sunscreens and are different to 'chemical' sunscreens—which have been connected to coral reef deterioration. To go a step further, wear a long-sleeved rash guard or a wetsuit to further help protect your skin from the sun and any scrapes from rocks or coral.
Stay Hydrated and Pack Snacks
Like any swimming-based exercises, snorkelling burns calories. Drink plenty of water before you head out, and always have a water bottle nearby. It is a good idea to bring some carb-heavy snacks like fruit or energy bars.
Within all of our tours here at Three Islands Whale Shark Dive, we provide food and drinks to ensure you are energised for the big day ahead. Remember, it is vital to keep your energy up so you can enjoy the amazing underwater sights along the coral coast!
Before You Dive In
Before you dive into the vibrant ocean, always look around and know your surroundings. Make sure you are aware of any big waves, submerged hazards or strong currents. A good idea is to always go snorkelling with a buddy, so you can look out for each other. As a reminder, never touch the coral or the marine animals. Let's keep Exmouth beautiful for everyone!
Start Booking Your Dream Adventure Today!
Experiencing the pristine waters of Western Australia offers an unparalleled snorkelling adventure, revealing a captivating underwater world. If you're aiming to capture the best snorkelling Exmouth has to offer, including thrilling opportunities to swim with whale sharks and humpback whales, don't wait any longer. Book an award-winning tour with Three Islands Whale Shark Dive today!
More...
In the pristine waters of Western Australia, a dark yet transformative chapter unfolded, leaving indelible marks on both the marine biodiversity and the societal landscape of the region. From Albany to Exmouth, the whaling industry was a tale of boom that cast a stark shadow over the serene coastal regions, including Norwegian Bay.
Read More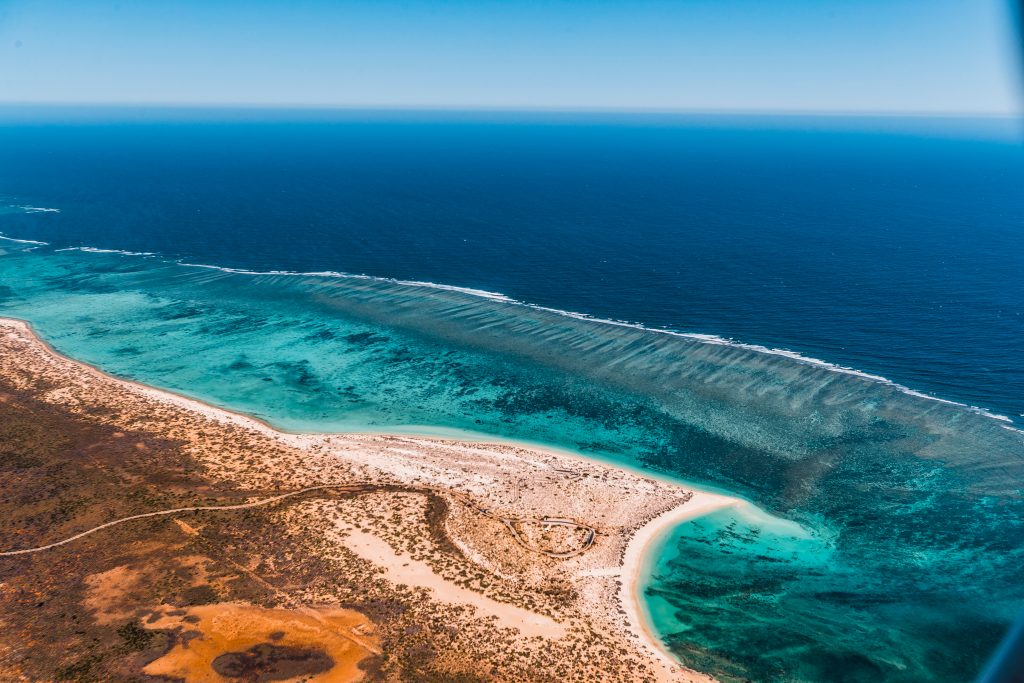 Nestled near the town of Exmouth on the Cape Range Peninsula in Western Australia lies the spectacular Ningaloo Marine Park. This marine sanctuary is home to the Ningaloo Reef—Australia's largest fringing coral reef. Beyond its impressive size, the reef is filled with a diverse array of marine life, making the park a dream destination for…
Read More